2023-11-20 Seminars for Pastors – Relationships
– brought to you by Pastors Renewal Ministry of First Light Care & SCCCA
Relationships – The Priority of Faithful, Fruitful and Sustainable Gospel Ministry
20/11
@
10:30 am
–
12:30 pm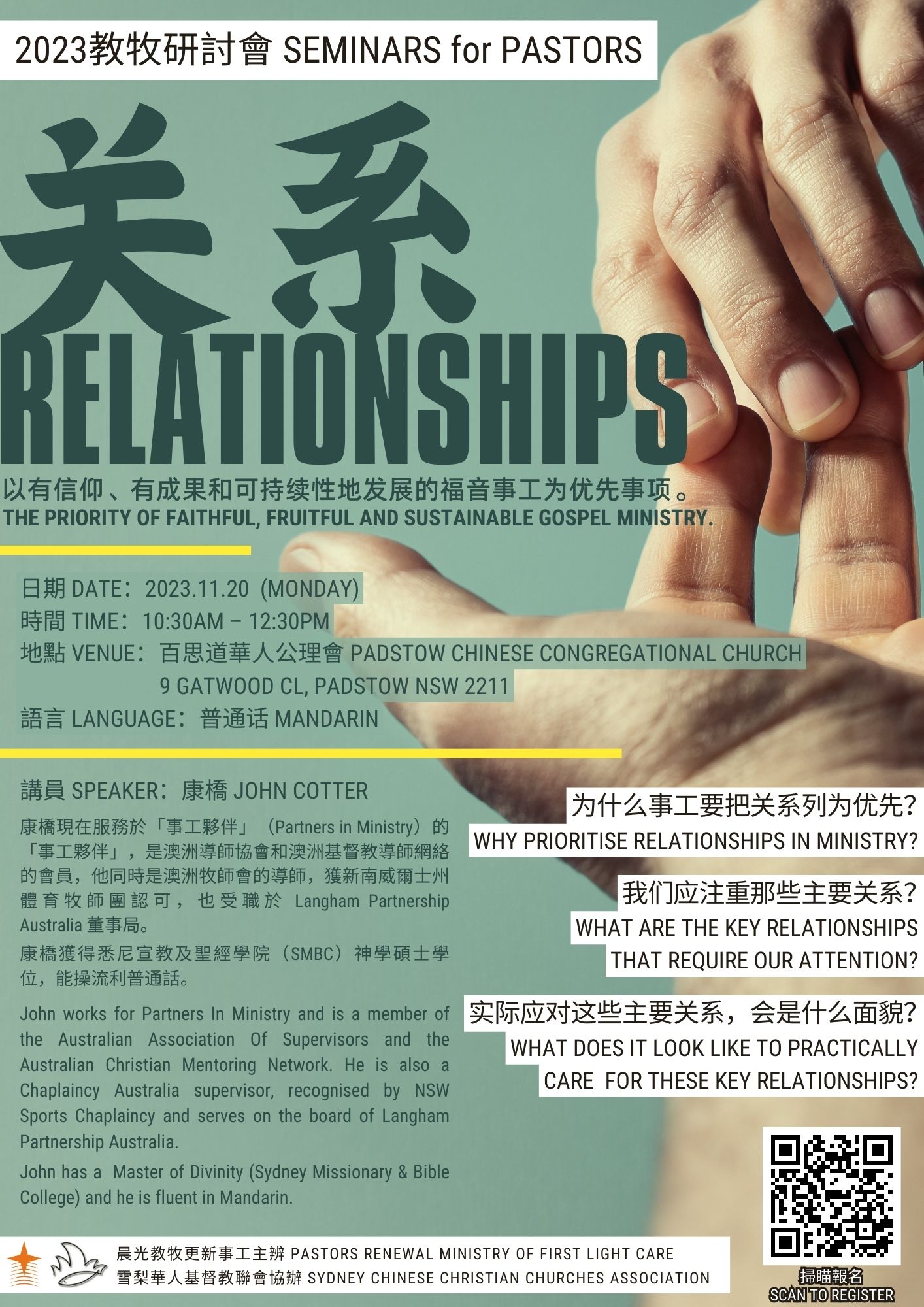 Why prioritise relationships in ministry?
What are the key relationships that require our attention?
What does it look like to practically care for these key relationships?
This seminar is based on the idea that the keystone of ministry and church life is relationships. To focus on relationships is not a new idea, but a reflection of the focus of the Gospel. This also implies that our primary focus cannot be substituted by other good things; "If we don't have love, we are nothing." The good news is essentially a message declaring and demonstrating that broken relationships can be restored through Jesus. As God's fellow-workers we focus on relationships because God's focus is relationships.
If the Gospel is about transforming relationships, it is vital for pastors to be pursuing, experiencing and modelling transformed relationships.
This seminar looks at our three key relationships: our relationship with God, with others, and with self. We will examine briefly the importance of these three key relationships, and explore practical ways that a pastor can join with God's work in these relationships.
The goal of the seminar is to encourage and equip pastors to experience faithful, fruitful, sustainable ministries through the intentional care of relationships.
Date: 20.11.2023 (Monday)
Time: 10:30am – 12:30pm
Venue: Padstow Chinese Congregational Church
    9 Gatwood Cl, Padstow NSW 2211
Language: Mandarin
Speaker:John Cotter (康橋)
To Register: https://forms.gle/4HxqZjeC51oQMiKJ7
John works for Partners In Ministry: An organisation that equips and supports church leaders to better lead their churches in Christ's mission.
For the last 30 years John's work has focused on providing Christian leaders with the personal and professional support they need to serve long and well. Addressing this urgent need in practical ways is what has energised and directed his work for three decades.
Through long-term relationships across Australia and Asia, John has worked with thousands of leaders navigating how to serve effectively, sustainably, joyfully and faithfully out of a close relationship with God in challenging contexts.
John works for Partners In Ministry and is a member of the Australian Association Of Supervisors and the Australian Christian Mentoring Network. He is also a Chaplaincy Australia supervisor, recognised by NSW Sports Chaplaincy and serves on the board of Langham Partnership Australia.
John has a Master of Divinity (Sydney Missionary & Bible College) and he is fluent in Mandarin.
There are no upcoming events.
Event Navigation