2023-04-15 Circle of Security Parenting (Abbreviated course)
Circle of Security Parenting (Abbreviated course)
15/04
@
11:30 上午
–
20/05
@
1:00 下午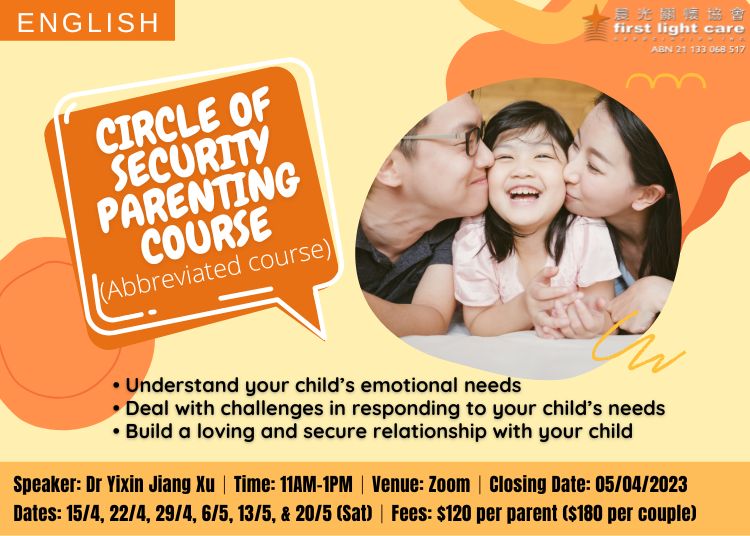 At times all parents feel lost about what our child might need from us. The Circle of Security® Parenting™ program is an internationally recognised parenting course based on decades of parent-child attachment research. The sessions are practical skills-based, using video clips, discussion and handouts to explore children's emotional needs and build parents' ability to respond sensitively to those needs. It is suitable for parents of children of all ages, but particularly focuses on infants and young children.
You will learn to:
Understand your child's emotional needs
Deal with challenges in responding to your child's needs
Build a loving and secure relationship with your child
Facilitators: Dr Yixin Jiang Xu
Date: 15/4, 22/4, 29/4, 6/5, 13/5, and 20/5 (Saturdays)
Time: 11:00 am – 01:00 pm
Venue: Online (Zoom)
Cost: $120 per one parent ($180 per both parents)
Seats are limited. This Zoom class will run as a small group of up to 5 families. Commitment to attend all sessions is important as each session builds upon the other.
Deadline: 5/04/2023
Seats limited. Please fill in online booking form to register.